EarlySteps: Louisiana Early Intervention System
SYSTEM POINT OF ENTRY (SPOE)
EarlySteps is Louisiana's Early Intervention System under Part C of the Individuals with Disabilities Education Act. EarlySteps provides services to families with infants and toddlers from birth to three years (36 months) who have a developmental delay or medical condition likely to result in a developmental delay.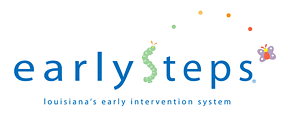 What Services Are Provided for EarlySteps?
EarlySteps services are designed to improve the family's capacity to enhance their child's development. These services are provided in the child's natural environment, such as the child's home, place of daycare, or any other community setting typical for children aged birth to 3 years (36 months).
SELAHEC provides system point of entry services for EarlySteps in twenty (20) parishes primarily in southeast Louisiana.
For more information or to make a referral, please call 866-327-5978
Assistive technology
Audiology
Health Services (family education, assistance with other EarlySteps services only)
Medical Services (for evaluation only)
Nutrition Services
Occupational Therapy Services
Physical Therapy Services
Psychological Services
Service Coordination
Social Work Services
Special Instruction
Speech Language Pathology
Transportation (to and from an EarlySteps service only)